Unspoken Pain: Infertility's Impact on Mental Health in Indian Couples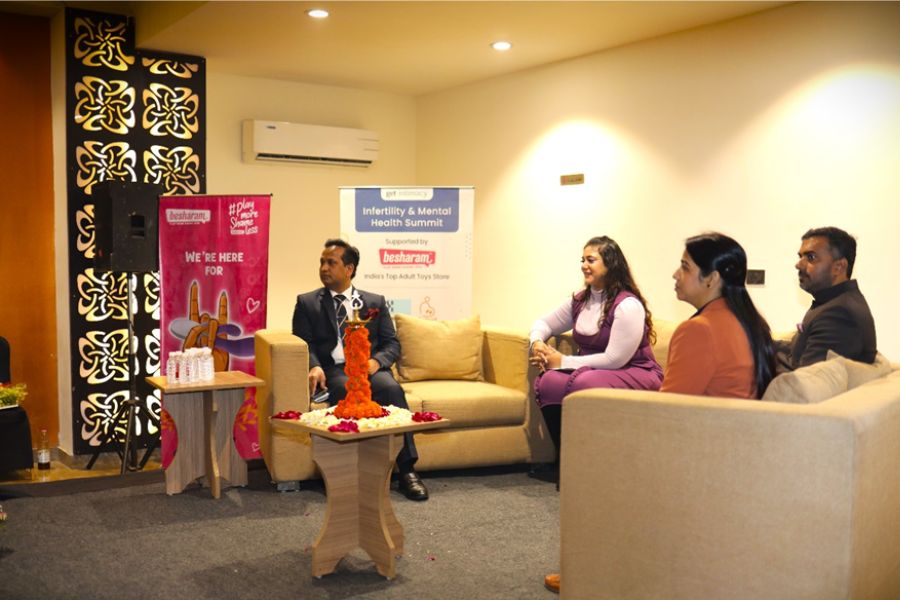 Infertility and Mental Health Summit, supported by IMBesharam.com
New Delhi (India), April 1: Infertility is an uncomfortable and stigmatised topic in India. This does not steal away from its alarming rise. "Nearly one in six married couples are believed to be impacted by infertility in India, sadly less than 1% seek medical assistance. This is due to lack of awareness, and difficulties in access/ affordability of treatment", Aatish Rathi, Birla Fertility. Diagnosis and treatment of infertility can cause extreme psychological stress among the couple spanning confusion, frustration, depression, anxiety, hopelessness, and guilt. Women bear the brunt of infertility distress because of the cultural conditioning that a woman is primarily responsible for bearing the child.
Still, a large number of medical experts are ill equipped to address infertility related mental health challenges especially with the sensitivity it demands. One of the male clients struggling with low sexual desire stated that the andrologist insensitively remarked 'why are you making a big fuss about desire, you are a man.'
To highlight the mental health wellness gap in infertility diagnosis and treatment, GetIntimacy, India's leading platform for intimacy education, with support from IMBesharam and other sponsors, concluded the much-anticipated Infertility and Mental Health Summit on 22nd January 2023, in Gurgaon, India. The Summit saw participation from over 100+ healthcare professionals – andrologists, gynaecologists, infertility specialists, mental health experts and sexual wellness brands – Birla Fertility, Ananta Hempcare, IMBesharam, Haplocare, Gravid, Apex Healthcare, to name a few. The Summit was dedicated to sensitising healthcare experts on mental health challenges couples (especially women) face while undergoing infertility treatment.
Prior to the summit, GetIntimacy surveyed over 100 infertile couples and discovered alarming insights. "It's high time we normalise discussions around infertility and its impact on a couple's psycho-social life", said Pallavi Barnwal, founder of GetIntimacy.
The survey showed how a couple who is diagnosed as 'infertile' enters a vicious cycle.
A large number of couples reach the brink of divorce. In one instance, the husband's family threatened the wife to 'give a child' or face separation over her 'inability to conceive'.
Then, most infertile women compare themselves to their friends/ relatives with kids and feel isolated and stressed about it.
Finally, excessive interference of parents/ in-laws drastically affects the couple's mental health. In one instance, a mother-in-law kept a check on her daughter-in-law's timing of sex, and even dared to ask her 'did you have sex previous night'. This created acute mental stress because of a grave violation of privacy.
Sadly, such cases are just the tip of the iceberg, with countless others under the carpet.
Dr. Meenakshi Ahuja, Gynaecologist and Senior Director at Fortis La Femme said that it is unfortunate that women associate self-worth with being a mom which equates infertility to being 'not good enough'. Also many times, mothers /in-laws too, tend to make the woman feel 'incomplete' by constant bickering.
Also, working women who choose to have children later in life, are put under additional pressure that this is the price being paid for prioritising career aspirations.
Many Indian men are unwilling to admit that they can have sexual problems because it hits their notorious 'male ego'. Dr. Surbhi Singh, Gynaecologist, highlighted that when female patients come for treatment, they're accompanied by their mother/ in-law. The husband's tests are delayed or never happen.
This is due to the social conditioning that manhood equals his sexual performance. However, performance anxiety and erectile dysfunction are quite common. And many men remain unaware of the treatment options available, the most powerful of them being Ayurveda.
"Herbs like Ashwagandha, Shatavari etc., can improve sexual health and help with infertility. Hemp is a very potent element too, it can improve sexual performance, quality and help avoid certain sexual challenges", said Mansi Sood, Ananta Hempcare. 
Subject matter experts lamented about the lack of sexual education. The men are unaware of their desires, lack personal hygiene and miss out on the basics of pleasure for a woman. They project unrealistic expectations from porn which further distances their wives. Women, who have had a sheltered upbringing, accept this as something 'wrong' with themselves. 
Thus many marriages remain sexless even though couples are perfectly healthy and IVF is opted because they start seeing sex as a chore. 
"Of late, sexual health educators & doctors, social media influencers and sexual wellness brands like IMbesharam have been trying to de-stigmatize pleasure and other taboos. 
At IMbesharam we have been working tirelessly for a decade to open conversations between experts and seeking, husband and wife, parents and children. We showcase sex toys as a means of healthy adult pleasure. Basically, they are just pieces of rubber and silicone, it's our mind that makes it what we imagine it to be. 
We are also trying to make access to sex toys easier because pleasure focus can greatly alleviate the mental health burden usually associated with sex and infertility."  Raj Armani, Founder IMBesharam, India's leading adult store 
Mental health easily gets overlooked in the fertility story. It's only after the plethora of physical tests are given a clean chit, is the psychological perspective hinted at. Else, neither desire nor the emotional burden of infertility, ever given importance.
During pregnancy too, a lot of women undergo postpartum depression but are forced to keep quiet, else they will be seen as bad moms. The panellists underlined the need for making psychological checks a part of infertility treatment and the pregnancy journey.
"Normalising conversations around treatment options, especially for mental health challenges, is vital. At Birla, we partner with couples, so that they are aware and remain the decision makers. We have specialised facilities for both physical and mental wellbeing. We ensure that we are accessible and encourage communication so that couples do not feel isolated", Aatish Rathi, Birla Fertility & IVF.
 Dr. Nidhi Jha, a leading Gynaecologist & IVF expert also reiterated that a healthy communication channel is crucial, for both men and women to open up safely; with each other, their families and with the health expert.
 Conclusion
 Overall, the Infertility and Mental Health Summit drove pertinent conversations on viewing infertility not just an end symptom to be handled clinically. But looking at it from a holistic purview, including mental health, sex education and social discussions. The Summit drove home the fact that infertility is not solely  a woman's responsibility. And reiterated that cultural drivers need to be addressed with medical ones to resolve this challenge.
If you have any objection to this press release content, kindly contact [email protected] to notify us. We will respond and rectify the situation in the next 24 hours.